UNHCR has received reports of a man (going by the names of Osman, Michael or Bo Bo Selai) who claims to work for the Resettlement and Registration Unit at UNHCR. The man contacts refugees and asylum-seekers via WhatsApp and has asked between RM10 to RM300 to be topped up to his phone, in exchange for UNHCR appointments and interviews for registration and resettlement. The known phone numbers being used by the scammer are 013-4005306, 011-25515774 or 011-68352928. You are advised to not reply, ignore and delete all messages from these phone numbers. The man also further sends stock/generic photos of UNHCR staff, the UNHCR office and its activities, to appear to be a UNHCR staff member. He also asks for personal information of his victims and photos of their UNHCR identity documents, claiming that he can assist them.
This is a scam. This individual does not work for UNHCR.
We wish to reiterate and emphasise that:
All UNHCR services are free.
You do not need to pay UNHCR staff or any individual to process your case for registration, Refugee-Status Determination (RSD), resettlement, or any other UNHCR services.
You cannot pay UNHCR staff or any individual to prioritise or expedite your case for registration, RSD, resettlement or any other UNHCR services.
Any UNHCR staff proven to be involved in taking money from refugees will immediately have their job terminated and be reported to the police.
We urge your cooperation to:
Be careful of persons claiming to have special links with UNHCR who can help you obtain interviews, resettlement or any UNHCR services for money.
Do not share your personal information or photos with them.
Do not share any information of your family, friends or community members with them.
Immediately end the phone call or conversation if you are contacted by these individuals.
Make a report to the police.
Make a report to UNHCR using this form.
If you report suspicious activities to UNHCR, your identity will not be revealed, your UNHCR card will not be cancelled and your case will not be delayed or closed.
Below are some photos and screenshots relating to the scam by the person going by the names of Osman, Michael or Bo Bo Selai.
For more information on UNHCR's processes, assistance and anti-fraud & corruption policy, please refer to the Fraud and Corruption page of Refugee Malaysia Website.
Actual screenshots of conversations with Osman (personal information and identifiers redacted):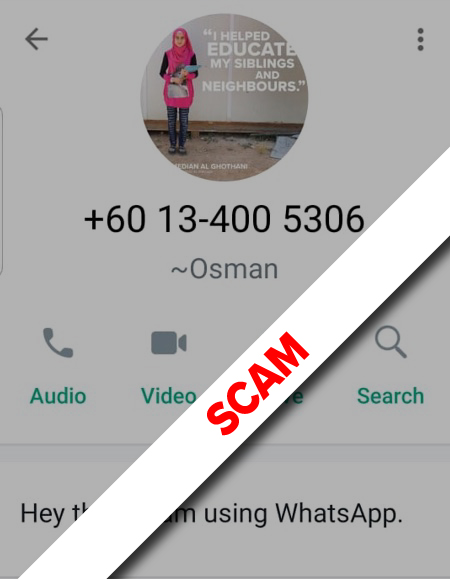 Sample stock/generic photos that have been shared: